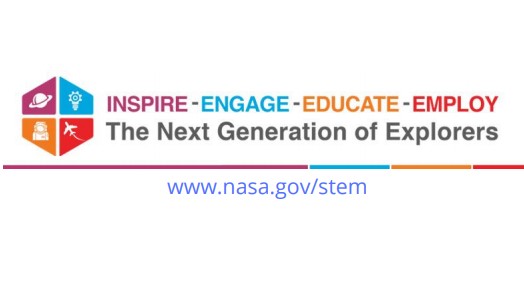 Pledge of the Artemis Generation to Explore
Deadline: April 2, 2021
Calling all Education Institutions in the US and Territories!
NASA is turning the page to a new chapter of human space exploration! We are going to land the first woman and the next man on the moon!! NASA needs you to help with the Pledge of the Artemis Generation to Explore (PAGE)!
Send a recorded video pledge and it will be sent to the Moon aboard the Artemis I Mission!
Steps:
Select Artemis Focused Resources
Record a video pledging to use them.
Submit the video
Watch it fly on the Artemis I Mission
Eligibility:
All educational institutions in the United States of America and its territories are eligible to participate. The education institutions may include but are not limited to a school, school district, after school program, science center, museum, library, university, or other similar organizations. 
Participants will receive:
A certificate confirming their pledge is on its way to the moon
A thank you letter from a NASA official
A future opportunity to share how taking the pledge impacted the local Artemis Generation. 
Video Criteria:
Must highlight an education institution in the United States and its territories. 
Must be submitted with with proof of consent from the institution administrator.
Must state a pledge. (see the link for an example)
Must be submitted as a link to an unlisted YouTube video.
Must not exceed 3 minutes in length.
Must not exceed 30 MB in size.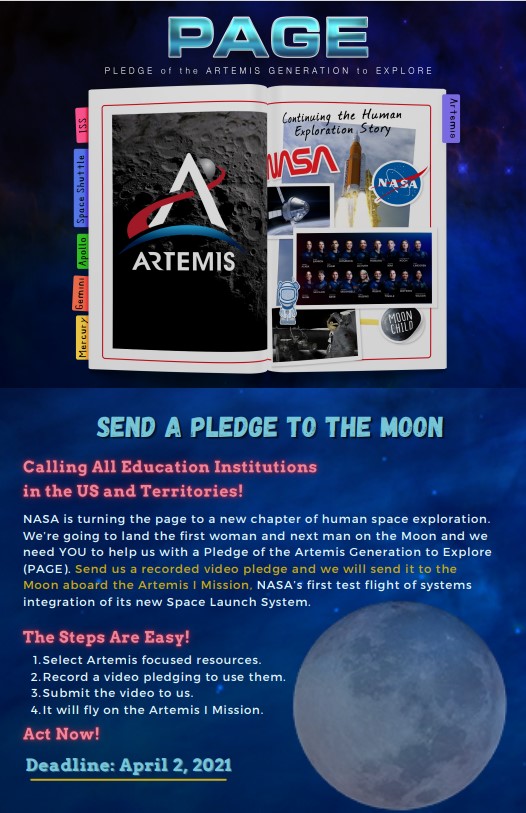 How to Submit:
Submissions are through email to:
Subject Line –  "Artemis I-State-City-Education Institution-Last Name of Point of Contact."
Body of the Email – 
A link to unlisted video pledge on YouTube
Proof of consent from Institution administrator
Point of Contact Name
Point of Contact Business Email
For More Information: click the link