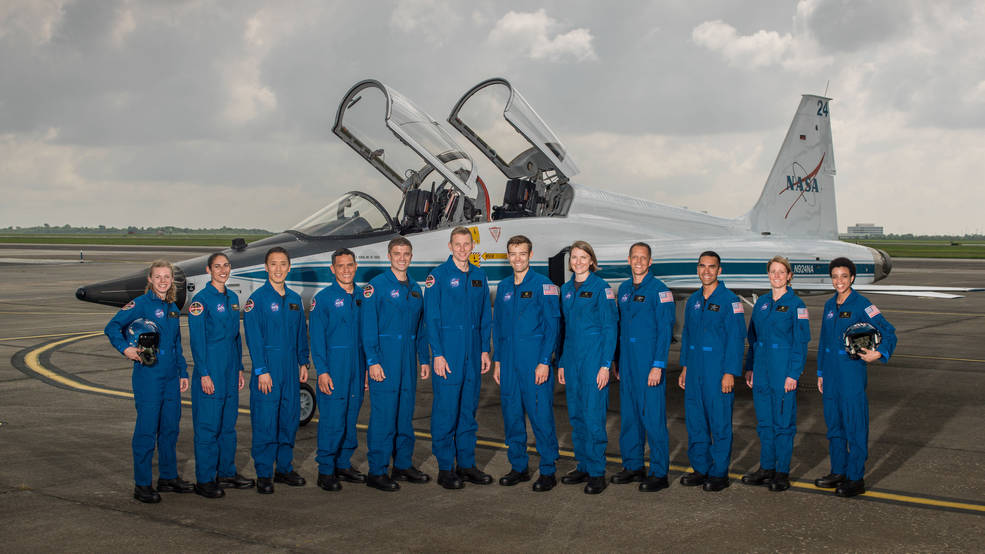 2017 Astronaut Candidates Announcement
It's my great pleasure to introduce to you today the 2017 class of astronaut candidates. We don't name new members of this select group very often, so we do it with great pride.
The 12 very talented women and men joining us as astronaut candidates are:
Kayla Barron – Richland, Washington
Zena Cardman – Williamsburg, Virginia
Raja Chari – Waterloo, Iowa
Matthew Dominick – Wheat Ridge, Colorado
Bob Hines – Harrisburg, Pennsylvania
Warren "Woody" Hoburg – Pittsburgh, Pennsylvania
Jonathan Kim – Los Angeles, California
Robb Kulin – Anchorage, Alaska
Jasmin Moghbeli – Baldwin, New York
Loral O'Hara – Sugar Land, Texas
Francisco Rubio – Miami, Florida
Jessica Watkins – Lafayette, Colorado
I want to welcome them and their families to the NASA Family. I also want to thank the families for the support they have certainly given these extraordinary individuals to reach this point and the support they will continue to provide as they embark on this new journey.
Our new astronaut candidates reflect the face of America. They are military service members. Physicians and pilots. Scientists and engineers. Women and men of all backgrounds. Here is a video to give you a quick introduction in their own words:
These candidates' energy and accomplishments are going to fuel our future, and we couldn't be more excited about the talents and perspectives they're going to bring to our journey of discovery. For biographies of these new members of the NASA Family, go to:
A lot of kids look into the night sky and dream of becoming astronauts. That's as much an American dream today as it was when we first began recruiting people to break the bonds of gravity nearly 60 years ago. This group proudly continues the legacy of those early and our current space explorers.
We have a lot of things coming up for them to work on. One of these people could provide the next iconic words the whole world listens to as they take the first steps on the surface of Mars, following in the footsteps of Neil Armstrong and the entire Apollo team as they explored a new world.
Working toward that next horizon goal is what drives us each day, and the new recruits are integral to that mission. They will use the International Space Station to the fullest as a stepping stone to the rest of the solar system. They're going to be part of expanded crews aboard the space station that will significantly increase the amount of important research and technology demonstrations we can do.
They're going to proudly be at the helm our commercial partners' bold new space travel systems, and they're going to travel farther into the solar system on the SLS and Orion transportation system. The possibilities for this class are truly exciting!
These astronaut candidates represent the pinnacle of American excellence. They inspire us all, and it's my great honor to welcome each of them to NASA.