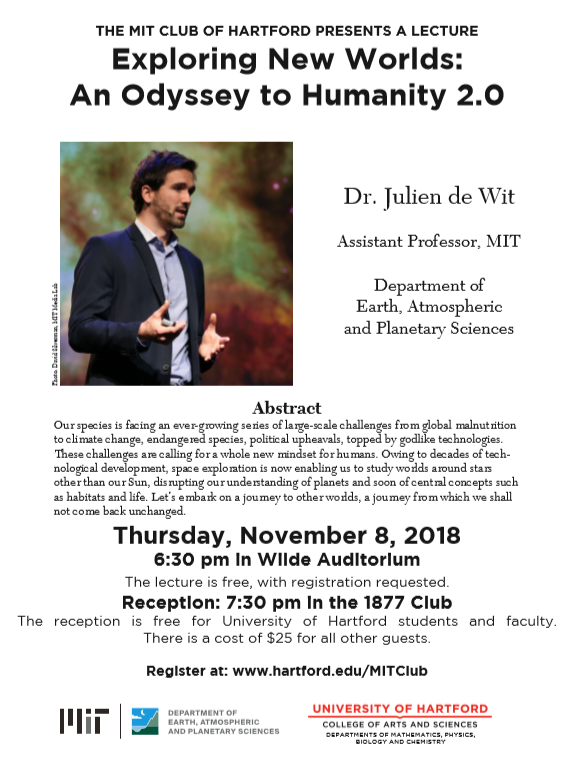 The University of Hartford is hosting Dr. Julien de Wit. Dr. de Wit will be presenting a lecture on "Exploring New Worlds: An Odyssey to Humanity 2.0"  on Thursday, November 8, 2018 at 6:30 PM in Wilde Auditorium. The lecture is free for all who attend, but registration is required. A reception will be held afterwards in the University of Hartford's 1877 Club. The reception is free for University of Hartford students and faculty and $25 for all other guests. You can register at www.hartford.edu/MITClub
Dr. Julien de Wit is an Assistant Professor at MIT in the Department of Earth, Atmospheric, and Planetary Sciences. Below is an abstract of the lecture:
"Our species is facing an ever-growing series of large-scale challenges from global malnutrition to climate change, endangered species, political upheavals, topped by godlike technologies. These challenges are calling for a whole new mindset for humans. Owing to decades of technological development, space exploration is now enabling us to study worlds around stars other than our Sun, disrupting our understanding of planets and soon of central concepts such as habitats and life. Let's embark on a journey to other worlds, a journey from which we shall not come back unchanged."
For more information and directions to Wilde Auditorium and the 1877 Club, please visit www.hartford.edu/MITClub .