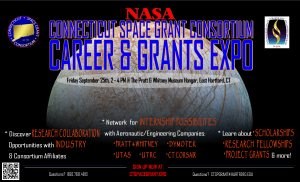 Come join us at the upcoming Career and Grants Exposition at the Pratt & Whitney Museum and Hangar Friday, September 25 from 2 to 4 PM!  To sign up, please use the links in the banner at the top of our page under the menubar.
This year, the special guest speaker will be Dr. Lynn Rothschild, formerly a Connecticut resident and currently a NASA scientist.  To read information about her, or to learn more in general about the Expo, visit the Career and Grants Expo event page on our site.
Update: Here is a list of companies that are participating in the Exposition this year!
American Academy of Environmental Engineers & Scientists
CCAT – Connecticut Center for Advanced Technology
Connecticut Invention Convention
Kell-Strom Tool Co. Inc.
Otis Elevator
Pioneer Aerospace
Pratt & Whitney
Sikorsky
Synovel Laboratory, LLC
UTC Aerospace Systems
UT Research Center